THEMIS/ARTEMIS Post-AGU SWT Meeting Fall 2016
Saturday, December 17, 2016 at Parc 55 Hilton Hotel, San Francisco, CA
---
Meeting Information

Click HERE for PDF of latest detailed meeting schedule.

8:30-10:10 am Mission planning, operations outlook. Products, processing, upcoming opportunities, strategy.
10:10 – 12:10: Science 5min presentations.*
12:10 – 1:30: Lunch
1:30 - 5:00 pm. Science 5min presentations.*

*Please keep presentations to 3 data slides and 5 mins, absolute maximum.
Location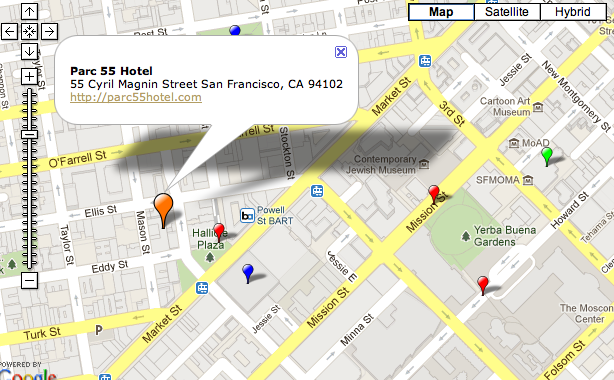 Parc 55 Hilton Hotel - Union Square
55 Cyril Magnin St.,
San Francisco, CA 94102 (click to enlarge map at right)

The hotel is located just off Market St., on the corner directly across from the Powell Bart Station. The meeting will be held in the Market Street Meeting Room on the 3rd floor.


Registration Deadline: November 4, 2016



Please register and submit your talk title here: https://commerce.cashnet.com/THEMI6

Registration is $20/person, online pre-payment by credit preferred. Drop-in attendees can pay credit or cash on the day of the meeting. If you have any questions please contact Emmanuel at emasongsong@igpp.ucla.edu.
---