THEMIS/ARTEMIS Post-AGU SWT Meeting Fall 2018
Saturday, December 15, 2018 at Hilton Garden Inn Washington D.C.
---
Meeting Information

Detailed schedule here: PDF

8:30 – 10:10: Mission planning, operations outlook. Products, processing, future plans, strategy.
10:10-10:25 Science 5min presentations.*
10:25 – 10:40: Break
10:40 – 12:20: Science 5min presentations.*
12:20 – 1:30: Lunch
1:30 – 5:00 pm. Science 5min presentations.*

*Please keep presentations to 3 data slides, absolute maximum.
Location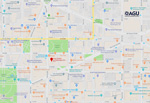 Georgetown Ballroom
Hilton Garden Inn - Washington D.C.
815 14th St. NW, Washington D.C. 20005
(click to enlarge map at right)

The hotel is located about 5 blocks west of the Washington Convention Center.



Please register and submit your talk title here: https://commerce.cashnet.com/THEMISAGU2018

Registration is $20/person, online pre-payment by credit preferred. Drop-in attendees can pay credit or cash on the day of the meeting. If you have any questions please contact Emmanuel at emasongsong@igpp.ucla.edu.
---