THEMIS/ARTEMIS Post-AGU SWT Meeting Fall 2023
Saturday, December 16, 2023
8:30am-5pm PST
---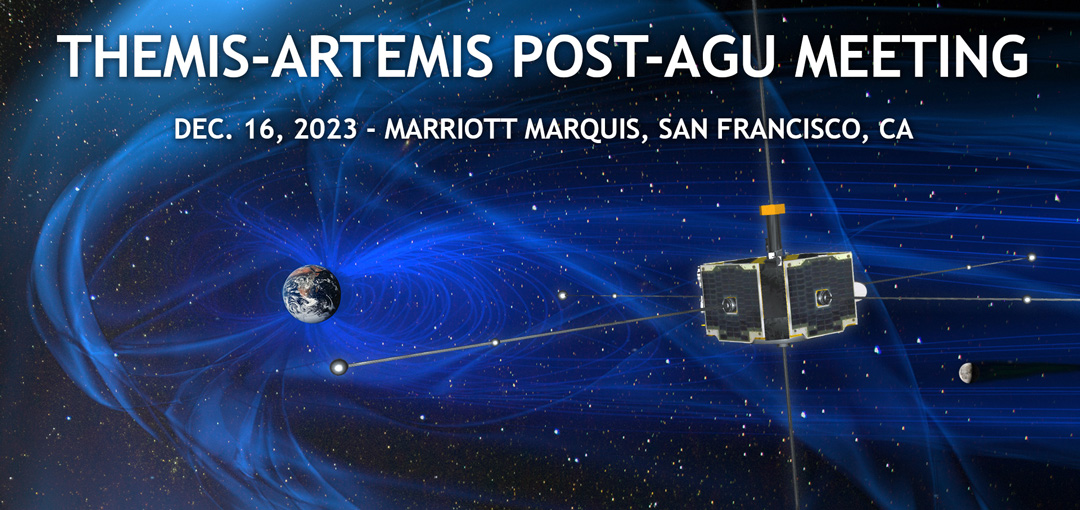 Meeting Information
We will resume our annual THEMIS/ARTEMIS SWT meeting right after AGU in San Francisco on Saturday Dec 16th, 8:30am-5pm PST. This will be a hybrid-virtual event, the in-person venue will be the San Francisco Marriott Marquis near the convention center:

San Francisco Marriott Marquis,
Foothill G Meeting Room,
780 Mission Street,
San Francisco, CA, 94103

This is a very informal rapid-fire, Q&A-style series of presentations, offering the most science return per minute of attendance. We hope that you will attend this meeting as it's always a highlight of the AGU trip for many of us.

The meeting will start with a 2 hr mission planning and outlook session, followed by science presentations highlighting current topics. As usual, we will have short talks (5 mins each AND 3 slides absolute maximum) with a couple minutes for questions, which helps keep the meeting very focused.



Please register here (DEADLINE: 11/24/2023): : https://commerce.cashnet.com/THEMIS

Registration will be $20 for in-person attendance and $10 for remote attendance. Light refreshments, coffee, and tea will be provided. If any questions please email emasongsong@igpp.ucla.edu.

Rough Agenda:

8:30-10:30 am Mission planning and operations outlook.
Products, processing, upcoming opportunities, strategy.
11:00 – 12:00: Science, 5min presentations.
12:00 – 1:15: Lunch
1:15 - 5:00 pm. Science 5min presentations.